Attention NCAA Football video gamers!
Thanks to the fine folks over at
PSP FANBOY
we have all been alerted to the fact that there is a couple of glitches in EA Sports' NCAA Football 2007. And one of them is GLARING.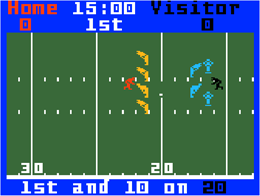 According to their report, some teams in the game don't have updated rosters, which as they kindly point out is kind of the point in buying an updated version of the game. They don't get specific on what rosters, but it's something to keep an eye on.
The second and most glaring of glitches involves the running game. EA has responded to the situation: "
During running plays the ball will be spotted at point of first contact where the tackle is initiated. The ball will not be spotted where the player is ultimately taken down." Again, as the fine folks at PSP FANBOY point out, "
that doesn't sound like how it should work."

So before you plop down your hard earned dough, be sure you want to deal with these glitches for a while until/if there is a fix.