The definition of oxymoron
Guillen has first session of sensitivity training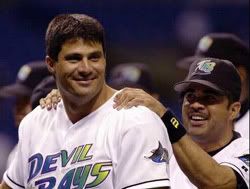 From the AP:
White Sox manager Ozzie Guillen was fined and ordered by commissioner Bud Selig to undergo sensitivity training last month after an obscenity-laden tirade against Chicago Sun-Times columnist Jay Mariotti in which he used a derogatory term that describes someone's sexual orientation.
He called him a "fag." Ozzie in sensitivity training is like trying to teach a dog to drive a car. Good luck.

Some wonderful insight was gained by Ozzie though:


"There are so many different languages you can use when you are going to talk to somebody. There are a lot of things you cannot say about anybody, even when you want to say them," Guillen said.
What else did he learn in his session?


"Be polite," Guillen said. "The thing I told the guy, I say I don't need to be polite, I need to speak better English. I understand the system better. A lot of people thought I was making the excuse of not being from this country. No, I have 26 years here and I know what every little word means to anybody, that's no excuse.
"The guy said, 'If you don't have anything nice to say, don't say anything,"' Guillen added. "I say, 'If you have to say that to somebody, don't tell me what then. I'm not going to say that.' I will be the same guy, use a different word."
So in sensitivity training he learned not to call people "fags". He should use a different word next time. Well, he seems

much

more sensitive to me now. Nice job MLB.