Evander Holyfield is a stinkin' genius
Evander Holyfield To Make Ring Return Against Jeremy Bates On August 18
Seriously.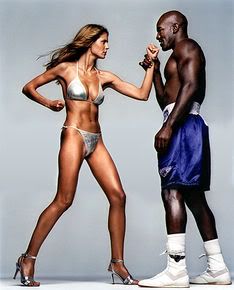 Holyfield, 43, 38-2-2, will face "veteran" (i.e. tomato can) Jeremy Bates, 21-11-1.
The event will be televised nationally on Fox Sports Net's "Best Damn Sports Show" with air-time at 10:30 p.m. Eastern/9:30 p.m. Central time on August 18.

Holyfield is pursuing his dream of a fifth heavyweight world title. He lost his last title in 2002 -- four years ago.

"I've had a great career and the book is almost written," said Holyfield. "But we have one final chapter where I win the World Heavyweight Championship for the fifth time. And on August 19th in Dallas, the Final Chapter begins."

In the immortal words of Mike Ditka, "Who are you crappin?"