He really is a "genius"
From the Boston Herald --
Belichick named 'Other Man' in nasty N.J. divorce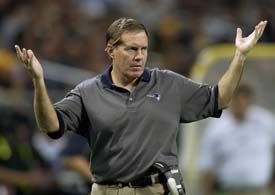 Vincent Shenocca, a 42-year-old New Jersey construction worker, filed for divorce from his wife, Sharon, a former receptionist with the New York Giants, on the grounds of "extreme mental cruelty." Shenocca's court papers say his wife of 10 years "has had a relationship with Bill Belichick for several years" and would not end it, despite her husband's pleas.


Hmmm. This is a conundrum. Should Mr. Shenocca have (a) filed for divorce; (b) blackmailed Belichick for season tickets, (c) do nothing and go bang other chicks knowing full-well his wife was cheating on him with a Super Bowl champ? We're leaning towards (b).
Sharon Shenocca, described as a slim, blue-eyed 41-year-old stay-at-home mom, reportedly met Belichick when she was with the Giants. Mr. Shenocca
claims that Belichick has sent limos to the house to pick up his wife, that he flew her to Super Bowl XXXVIII in Houston, and that he has plied her with large amounts of cash. Mrs. Shenocca reportedly is looking at posh pads in Brooklyn, N.Y. and her husband is questioning how she can afford pricey real estate when she doesn't work.


Nevermind, apparently this guy is too slow to have figured out a way to use this to his advantage by getting tickets, apparel, autographs, and other memorabilia.
Belichick and his wife of 28 years, Debby, separated before the 2004 football season but still spend time together. Apparently Belichick's ability to run a team isn't limited to the football field.