Jose can you see?
From the AP:
Jose Canseco goes 0-for-3 in debut with Surf Dawgs
In typical Jose Canseco fashion, there was a lot of hot air and not a lot of substance in Canseco's "return" to professional baseball. In his first appearance in a baseball uniform (other than when he poses for himself in the mirror at home), Canseco went 0-for-3 with THREE strikeouts and was hit by a pitch. That is not a typo. He fanned THREE times in the San Diego Surf Dogs 4-3 victory over the Chico Outlaws of the independent Golden Baseball League.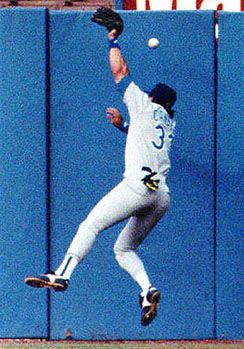 The Golden Baseball League is made up of players who are not good enough to be playing in Class A ball for any of the 32 major league teams.
He did have time to send another wave of hot air Major League Baseball's way, however.
"They're (MLB) mafia, point blank, they're mafia," Canseco said. "I don't think Major League Baseball is enthused about finding out the truth. There needs to be a major cleanup in Major League Baseball. I think they are treading on very thin ice, and (commissioner) Bud Selig has to be very careful what he's doing because his job is on the line."
Yeah.

I am sure Bud is quivering with fear right about now. It's a shame Jose wasn't more successful tonight. I sure hope it doesn't affect his upcoming movie premiere.

In a related AP story:
"His allegations are complete nonsense," MLB spokesman Rich Levin told The Associated Press in a telephone interview.
Shocking.