Maurice Clarett to play indoor football?
From MSNBC:
Clarett reportedly to sign with indoor league


Former Ohio State star running back Maurice Clarett, who failed to catch on with an NFL team after being cut by the Denver Broncos last year, has an oral agreement to play with an indoor league team, the Columbus Post-Dispatch reported Thursday.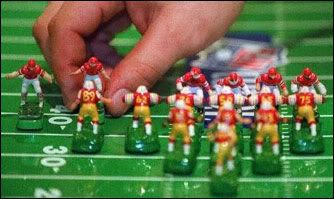 From the looks of the league's web site this league could very well be some guys playing Strat-O-Matic in a basement for all we know.

Other notes from the story include this nugget:


It's unclear if Clarett will ever play for the Hitmen, because the team currently has just four players on its roster, the newspaper reported.


The guy on the front of the home page, the commish, is a bit funky looking with the finger to mouth pose. Not exactly inspiring, but there's more!! Click on the rules page...it's blank. Click on EIFL 101...it's blank. Schedules? Blank. Teams? We got three of 'em! No players though. Merchandise? Yeah, baby, we can get the official ball for just 35 bones!

Hey there's another link for something called PG13football.com. What's that all about you say? It's blank too.

Now we're not telling anyone how to start a football league, but maybe, just maybe, you should have some stuff on your site since, you know, it's kinda your only link to the rest of the sporting world. Or maybe, you should actually have teams, players, and a schedule before rushing out and making an announcement about how you are signing a failed, not-even NFL caliber running back, known more for his college cheating and arrests than playing actual ball.

But that's just our opinion.