MLB All-Star Teams
With the players being selected today for the All-Star Game I have a few observations to share.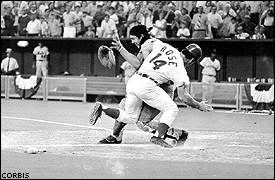 1) Can we do away with the "every team has to be represented" thing now that the game "counts," so that the 32 best players are on the rosters?
2) How does the National League batting leader not make the team (Nomar Garciaparra)?
3) Troy Glaus? He is batting .252. C'mon.
4) Derrick Turnbow? He of the ERA over 4.00? Chris Capuano should easily be on before him if you have to take a Brewers pitcher.
5) Further proof that not every team should be represented: Mark Redman made the team.
6) Francisco Liriano and Travis Hafner are in the MLB.com vote. They should both be on the team not in this ignorant fan vote.
7) Others who could have/should have made it: (HITTERS) Carl Crawford, Johnny Damon, Orlando Cabrera, Raul Ibanez, Corey Patterson, Nick Johnson, Scott Rolen, Joe Crede, Brandon Phillips, Trot Nixon, David Eckstein, and Carlos Delgado. (PITCHERS) Aaron Harang, Curt Schilling, Mike Mussina, J.J. Putz, Joe Nathan, Nate Robertson, Takashi Saito, Josh Johnson, John Lackey, Chris Young, and Chien-Ming Wang.