Oh My!
Did anyone else catch Venus Williams standing next to Kiefer Sutherland during their presentation tonight on the ESPY's?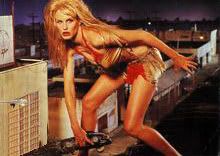 She made him look like a frickin' midget! I either have a new respect for the women who beat Venus in tennis or a newfound wonder how small the people are on 24 that make Jack Bauer look so tough.
Venus actually made Shaun Alexander look kind of small, so I am going with the former.