Spalding!
From SI.com ---
Man sues Mashburn over golf mishap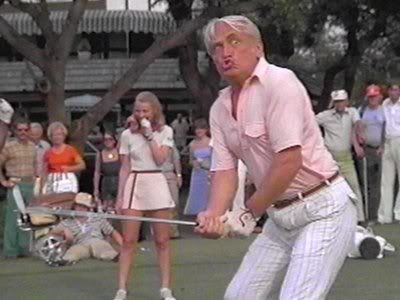 A man who claims he was injured by an errant golf ball hit by former Miami Heat player Jamal Mashburn on a Miami Beach golf course in 2004 has sued the retired player for damages.
File this one under, "huh?" I am sure there is no alterior motive here other than that the man was seriously injured. The fact that Jamal Mashburn has millions in the bank is sheer coincidence. Read on...
The lawsuit was filed Monday in Miami-Dade Circuit Court and seeks an excess of $15,000 in damages.

I'm sorry...did you say $15,000? As in fifteen thousand? Wow, this guy must be more honest than about 90% of the population. Admit it, dear reader, you'd have thrown in some "pain and suffering" wouldn't you?

Crance and Mashburn, who retired from the NBA after an injury last year, were both playing golf at the upscale LaGorce Country Club in March 2005. Crance was teeing off on the 17th hole when Mashburn hit a shot off the 18th hole that struck him in the eye, the lawsuit said.

Mashburn didn't yell "fore" when he hit the stray ball and failed "to give any warning whatsoever," the lawsuit said.

"He's permanently lost vision in one eye because of a detached retina," Koltun said.

Again...$15,000?! Dude has a detached retina from getting hit in the head by a golf ball from a player worth millions and he is suing for $15 grr? Wow. Who is representing this guy, Vinny Gambini?