Are you ready for some football?
The NFL season is almost upon us, but in case you missed it (and I am that sure you did), the champs of football have just recently been crowned. The champs of the
National Women's Football Association
that is.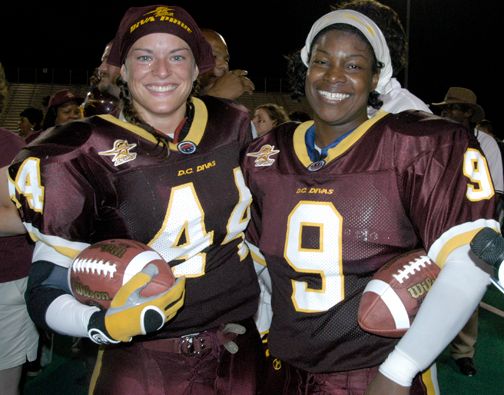 From their web site --
The D.C. Divas stopped the OKC Lightning from crashing down on their dreams of becoming the WORLD CHAMPIONS of women's football. The Divas lead from just moments into the first quarter and never lost their lead despite some hard playing from OKC. OKC had several huge opportunities to keep the game within striking distance but weren't able to convert on the big plays they needed. OKC's Iliana Calderon, the league's leading rusher and scorer wasn't able to get past the Divas outstanding defensive line enough to keep OKC's hopes alive. Kim Mitchell, OKC's QB scored the only OKC touchdown. The OKC Lightning's defensive line played 4 hard quarters doing all they could to stop the dominating Divas. But, the Divas were too determined and too talented to be denied. The Divas Rachelle RB Rachelle Pecovsky scored three of the Diva's touchdowns with QB Allyson Hamlin scoring the fourth TD. The final score was D.C. Divas 28 OKC Lightning 7. Congratulations to the D.C. Divas! The Divas Rachelle Pecovsky was named Most Valuable Offensive player and Ivy Tillman was named Most Valuable Defensive player.
Yes, it was written just like that. Nothing like a run-on paragraph.

Upon first glance at the web site, it should be said that using the words "large" and "women" in the same sentence for your catchphrase might not be the best of ideas as the league claims to be "The Largest Tackle Football League in the World for Women." For some reason, all I see are the words "Largest" and "Women."

But I digress.

Apparently there are 30 teams in this league spread from coast-to-coast. The league began in the year 2000 with two teams located in Tennessee and Alabama (NO WAY!). In 2002, they held what they referred to as the "SupHer Bowl." It's not immediately clear if that name has stuck or not.

In an effort to continue their legacy, apparently there is also something called "The National Girls Football Association." The NGFA
is a touch football league for girls in grades 6-12 supported by the NWFA. (Is there a female version of NAMBLA?)
Amazingly, this is not the only Women's Pro Football League out there. There is the
Independent Women's Football League
and the
Women's Professional Football League
as well.

So there you go all you athletic, manly, gender-confused females out there who don't want to play pro golf, pro tennis, or shoot hoops in the WNBA. Your calling is being fulfilled.