The fight we've all been ... nevermind
Holyfield begins another comeback Friday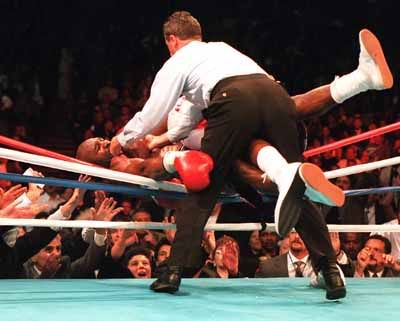 DALLAS (Ticker) -- Evander Holyfield was last seen by the American public "Dancing With the Stars" on ABC. The 43-year-old is ready to once again dance in the boxing ring.
Believing he can make a difference in a heavyweight division muddled in disarray, Holyfield returns to the squared circle Friday, when he takes on Jeremy Bates in a bout scheduled for 10 rounds at the American Airlines Center.
A record four-time heavyweight champion, Holyfield (38-8-2, 25 KOs) - who participated in the first season of ABC's reality dance show in 2005 - is beginning his quest for an unprecedented fifth title. The 1984 Olympic bronze medalist in the light heavyweight division, he apparently sees a weight class currently ruled by fighters from the former Soviet Union as his chance to once again reign supreme. more

Comments???