Just another day in "The Life"
Authorities seek
arrest
of ex-NBA star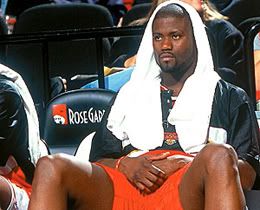 MARIN, Calif. (Marin Independent) -- A Marin judge issued two arrest warrants for former NBA star Isaiah "J.R." Rider after he failed to show up for sentencing Wednesday.
Marin Superior Court Judge Verna Adams waited until after 10 a.m. to call the case, which was scheduled at 9:06 a.m.
Bail was set at $10,000 for each of the warrants in two separate misdemeanor cases against the basketball player, who retired in 2002.
Rider pleaded guilty to six misdemeanors and three infractions in the two cases in Marin. One involves false imprisonment and battery and the second is for driving with a suspended license and related charges. more