A Link's As Good As A Hit
"Yeah, sure, it's a real baseball league."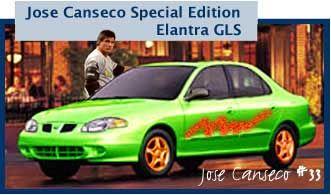 Today's "top" story . . .
Canseco walks five, hits four for Armada
LONG BEACH, Calif. (AP) -- Jose Canseco's knuckleball was uncontrollable -- and it made his debut as a starting pitcher pretty ugly.
The former American League MVP hit four batters and walked five others in 4 1-3 innings for the Long Beach Armada on Wednesday night. He also gave up a home run on a "flat knuckleball" and recorded his first career strikeout during an 8-2 loss to the Reno Silver Fox.

"Overall, it felt pretty good," said Canseco, who joined the independent Golden Baseball League earlier this year. "It took me a little while to get a rhythm out there, and I walked too many guys. It should get better." more


The
rest
of the stories . . .
Theismann calls Williams 'disgrace to game' (ESPN)
Terrell Owens finally back on the field (SI)
Bush Gets A Taste of Shoe Business (LA Times)
Proteas 'sissies' to pull out of tri-series (Hindu)
Ugly fracas mars Texas' win over Halos (MLB.com)