No Links For You!
"I beat up a wall once, so look out!"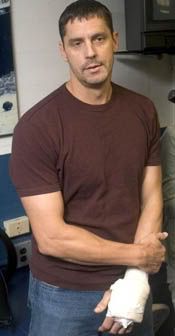 Today's "top" story . . .
Retired Pitcher Brown In Turf Battle

MACON, Ga. (Macon Telegraph) -- The grass apparently is not greener on the other side of the fence for retired Major League Baseball pitcher Kevin Brown, who reportedly pulled out a pistol in a dispute with a neighbor over yard debris.
Bibb County sheriff's deputies were called to settle a tussle about tossed turf Monday between Brown and Michael Haws.
"It was kind of an awkward evening," Haws told The Telegraph on the phone Wednesday night. "Luckily nobody got arrested and nobody got shot."
Haws said he called the sheriff's office after a loud argument that began when he found Brown throwing grass clippings over the fence into Haws' yard on Breighton Court, which backs up to Brown's multimillion-dollar estate on Brown's Ridge.
When Haws confronted Brown, the two men argued and Brown pulled out a gun and told Haws he'd better not come onto Brown's property, the report stated.
Brown, baseball's first $100 million man, told deputies that he carries a gun while strolling through the woods because he often sees snakes. more
The
rest
of the stories . . .
Anderson contacted Brady about workout (FOX Sports)
Judge gives Bonds' trainer option: Testify or go to jail (AP)
Plaxico sacks Coughlin's style (Newsday)
NFL says Titans, mascot will not be punished (SI)
Short retirement: Seau to reportedly sign with Patriots (Seattle PI)
Ticket touts targeted (Monsters and Critics)