The Surreal Life with Mo
Lawyer: Clarett has ties to alleged Israeli mobster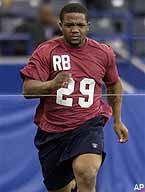 (ESPN) -- Maurice Clarett was bankrolled by an alleged member of an Israeli crime organization after leaving Ohio State, ESPN has learned, and Clarett's attorney said Thursday that his client may have been in possession of firearms last week to protect himself against mob activity.
Clarett's attorney, Nick Mango, said Thursday that Clarett has repeatedly received death threats over the past year but that a cryptic postcard sent from Los Angeles last week has him wondering about Clarett's ties to an alleged mob enforcer.
In the late summer of 2004, ESPN has learned, Clarett traveled to Los Angeles and was introduced by a rapper friend to Hai Waknine, 35, a convicted felon who prosecutors believe is a member of an Israeli crime organization called The Jerusalem Group. Waknine, who at the time was being indicted on extortion and money-laundering charges, became Clarett's sponsor and adviser, along with Waknine's attorney, David Kenner. Waknine provided Clarett with cash, a BMW, bodyguards, drivers and beachfront lodging in Malibu, with the understanding that he would be reimbursed and receive 60 percent of Clarett's rookie contract. more

Comments???