Tellin' It Like It Is
No one knows a football team like the hometown fan does. Not the talking heads on FOX, not the Boo-yeah's on ESPN, no one. So since the NFL season is almost upon us, we thought it would be a good idea to let YOU THE FAN do the talking and give us your insights on YOUR TEAM for the upcoming season.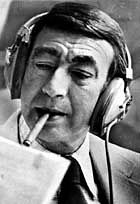 Will your team be any good or is this another "rebuilding" year? Is there something that you heard on the local radio or TV station that the rest of us may not have heard? Let us know. Will an unknown rookie be a player to watch for your squad this year? Tell us now.
Hopefully, if enough people respond we will have more good info on the upcoming season than you can find anywhere else.
Let 'er rip in the comments section. GO, GO, GO!!