The World According to Links
"J-E-T-S, Jets, Jets, Jets!"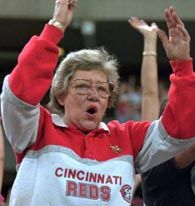 Today's "top" story . . .

Barlow in sorry state: Apologizes for Hitler remark
(NY Daily News) -- Kevan Barlow was supposed to be sleeping on Tuesday. Instead, he was comparing his former coach to one of the most despised men in history, and his new coach isn't too happy about it.

Barlow, the running back the Jets picked up in a trade with the 49ers over the weekend, compared San Francisco coach Mike Nolan to Adolf Hitler in an interview that appeared in the Contra Costa Times yesterday. The interview was conducted on Tuesday, when Barlow was given permission by Eric Mangini to catch up on his sleep instead of attending practice.

Here's what Barlow said about Nolan, who is heading into his second season as coach of the 49ers:

"Nolan just doesn't know what he's doing. He's a first-time head coach with too much power. He has too much power as a first-time head coach. He walks around with a chip on his shoulder, like he's a dictator, like he's Hitler. People are scared of him. If it ain't Nolan's way, it's the highway."

In a follow-up call later, Barlow tried to retract his comments, saying: "I was kind of harsh on him, saying he's a dictator. That's bad. Saddam Hussein is a dictator. I was speaking on emotion....My world's been (upended) in the past (48) hours." more
The
rest
of the stories . . .
OU bans car dealer work (SI)
Rice shopping reality TV show (SI)
AF assistant reinstated after striking player (SI)
Tribe allow 10 to KC in first, win 15-13 (AP)
Healthy Sullivan pleads his case (Boston Globe)
The Top 25 high school football teams (SI)