Your Host: Link Martindale
"I'd be perfect for the Brewers," says Wally, er...Barney.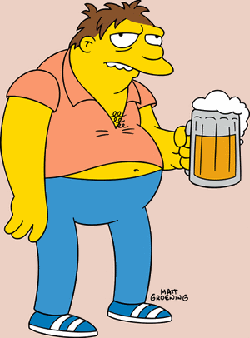 Today's "top" story . . .
Backman still trying to get back into baseball
(AP) -- Wally Backman has fond memories of winning the 1986 World Series with the New York Mets. His memories of his four-day stint as the manager of the Arizona Diamondbacks still sting.
Backman received a warm welcome as he joined most of his teammates from the 1986 Mets on the field at Shea Stadium for an anniversary celebration before Saturday night's game against the Rockies. He made his way through the stands along the third-base line, giving high-fives as fans cheered despite a steady rain.

Darryl Strawberry, Lenny Dykstra, Mookie Wilson and Howard Johnson got the loudest applause as they made their way through the crowd, which chanted "Lenny! Lenny!" for Dykstra and thundered "Mookie!" when Wilson was introduced.
While many of his former teammates still work in baseball, Backman is trying to get back on the field after an embarrassing episode in 2004. Arizona hired him as manager in November 2004 then dismissed him four days later because of evidence that arose from off-the-field problems, including two arrests and several financial problems.
Time has done nothing to change how the fiery Backman feels about what happened, saying Arizona handled the situation extremely poorly. more
The
rest
of the stories . . .
Rice to rejoin Niners ... then officially retire (AP)
Seattle rowers win trans-Atlantic race (SportsFilter)
Johnson can't celebrate touchdown (FOX Sports)
Pollard taking creative haircuts to Cleveland Cavs (ESPN)
Hey, Yankee fans, get yer warm beer! (NY Daily News)
Holyfield satisfied, but not much of a test (SJ Mercury News)